I was meeting a few friends in the east last Sunday, and thus decided to drop by Pasir Ris Park for a quick look since I was early.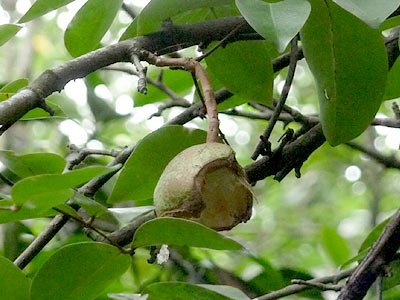 The Nyireh Batu (Xylocarpus moluccensis) was fruiting, but all the fruits I saw were half-eaten. I wonder what animals have been feeding on them. Hmm...



It was really noisy along the mangrove boardwalk, as there were lots of male Cicadas (Family Cicadidae) singing.



A number of the Bakau Putih (Bruguiera cylindrica) were flowering, and I decided to take a macro shot. It was then I noticed a pair of Crab Spiders on them! The female, which was whitish-green in colour, was much larger than the reddish-brown male. It's almost impossible to spot the male since it was half-hidden behind the petals of the flower in the middle.



I also found this Cotton Stainer Bug on this Portia Tree (Thespesia populnea). Previously, I had found a few Thespesia Firebugs on the same tree, but couldn't find any this time round. The above Cotton Stainer Bug is also not the usual ones that I have seen on the Sea Hibiscus. Not sure what species it is.



Along the boardwalk, I heard a man telling a few kids, "snake, snake". I went over to take a look, and saw that it was a Dog-faced Water Snake (Cerberus rynchops).



I also managed to found time before I went off to meet my friend to visit the fruiting Lenggadai (Bruguiera parviflora). There were quite a few propagules hanging off the branches.

I had to rush off soon after that, but still, it was a shot but pleasant walk :)